(NewsUSA)

Now-perhaps more than ever before-creating a relaxing outdoor space has been at the top of homeowners' to-do lists. Basic porches and patios are out, and families are investing in extravagant exterior areas with high-quality furnishings and amenities. And they're doing so with natural and durable materials like cypress. Here are five ways homeowners are decking out their outdoor space.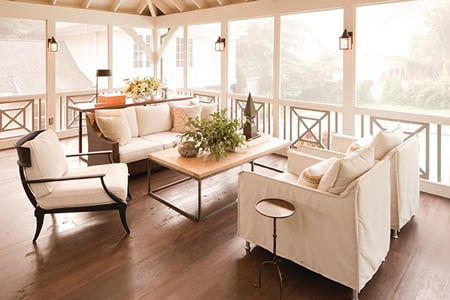 Photo courtesy of J Paul Moore PhotographyBeautiful FlooringIf you're building an outdoor room, one of the first considerations is what's underfoot. Nancy Moore of The Porch Company in Nashville, Tennessee, says she loves utilizing the softness and beauty of wood in above-grade applications."A wood floor is much more attractive than a masonry one in my opinion-and less expensive," Moore says. "Cypress is our go-to wood for covered porch floors because it's naturally resistant to decay and readily available in tongue-and-groove boards, which gives a more finished look. And due to its light color, unlike cedar, we can use stains to develop a wide range of color choices."Moore also offers some important advice. "If you're installing a tongue-and-groove floor, make sure there's an appropriate gap and you slope it to allow for water drainage," she explains.

© 2021 Nickolas Sargent of DBA Sargent PhotographyDecorative Ceilings"A lot goes into designing an outdoor space," says Tom Kirchhoff of Kirchhoff & Associates Architects in Jupiter, Florida. "The ceiling must relate to the furniture layout, decorative accents, and lighting. We tend to make the ceiling the focal point of our design creativity, and really love using natural cypress because of the warmth it provides, as opposed to other materials, such as stucco."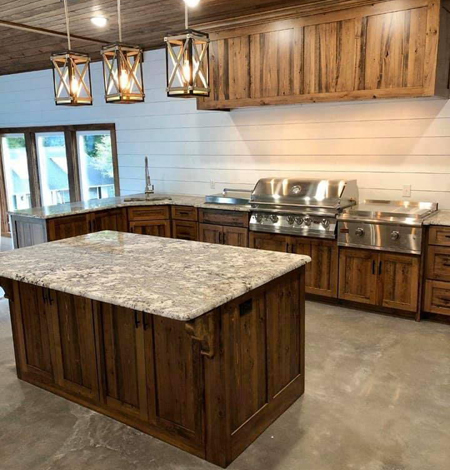 Photo courtesy of M&M Millworks of LouisianaHigh-End CabinetryWhether indoors or out, homeowners can never have too much storage, says Robert N. Holley of M&M Millworks of Louisiana, a custom cabinet shop in West Monroe, Louisiana."We produce top-notch cabinets, regardless of if they'll be installed indoors or out," Holley says. "We prefer working with cypress because it's local, easy to sand, offers a rustic appearance, and holds up well to the elements in all seasons-especially in our hot and humid climate."Cypress also accepts a variety of finishes to meet any style. But if it were up to me, we'd use a clear sealer instead of a pigmented stain. I like to show the wood's natural beauty."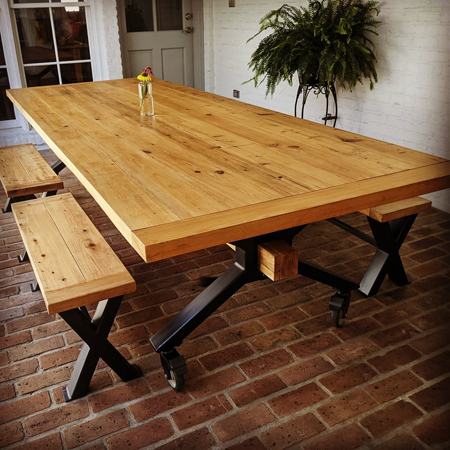 Photo courtesy of Benjamin Deshotels, Backwards Anvil LLCShowpiece TablesWhen it comes to outdoor furniture that's built to last, Benjamin Deshotels, a blacksmith and owner of Backwards Anvil LLC in Port Island, Louisiana, chooses cypress."In our neck of the woods, cypress has a rich history and that's a big motivator to incorporate it into our projects," Deshotels says. "Cypress also performs well in outdoor environments; not to mention it's a beautiful wood with lots of character."I recently used cypress to build an outdoor table with matching benches. It's finished in an oil-based stain to enhance the wood's color and a few coats of spar varnish to provide protection from direct sunlight and UV rays."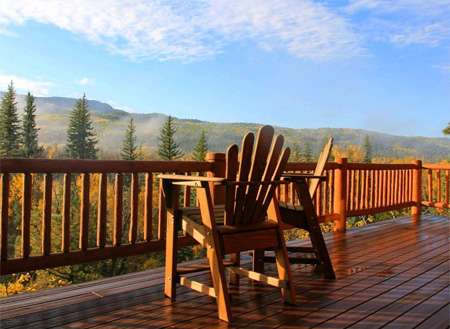 Photo courtesy of Lake Cypress Outdoor ProductsReal SeatingThere are a lot of factors to consider when buying outdoor furniture-including quality, durability, and price. And Steve Peugh of Lake Cypress Outdoor Products in Sulphur Springs, Texas, says cypress checks all the boxes."We've been crafting high-quality, Adirondack-style furniture with cypress for more than 30 years," Peugh says. "Cypress is a naturally durable wood and it won't decay like pine and some other common species. It's also stronger and denser than cedar."And when compared to wood alternatives, like polywood and plastic, Peugh says people choose cypress for three reasons. "First, it won't heat up like alternative materials. Second, it'll last for many years. People think polywood will last forever, but it gets brittle and will break. And lastly, cypress is less expensive than wood substitutes-which is surprising to many customers."Homeowners are tired of replacing their outdoor furniture every few years. And at the end of the day, people don't want to sit on plastic, they want the real thing."For more creative ideas on decking out your outdoor space, visit CypressInfo.org.



Source link