Consejos para que su bebé duerma toda la noche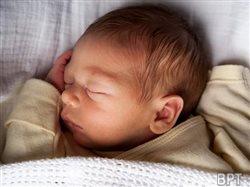 Si tiene un hijo recién nacido, la idea de dormir toda la noche le parecerá un sueño, pues su realidad cotidiana consiste en biberones a altas horas de la noche, cambios de pañales y horas incontables en la mecedora. Si ese es su caso, le consolará saber que no es la única que debe lidiar con las noches en vela.
En los Estados Unidos hay miles de madres hispanas en la misma situación. Recientemente, la firma Pampers patrocinó una encuesta en la que participaron 500 madres hispanas con hijos menores de 3 años, para enterarse de qué están haciendo para que sus bebés descansen cómodamente, incluso a las 3 a.m., a fin de que Mamá y Papá también puedan disfrutar de ese escurridizo sueño toda la noche. A continuación, algunas de sus respuestas.
* Revise el pañal. Las madres encuestadas afirmaron que la técnica más importante para mantener al niño durmiendo a las 3 a.m. es ponerle un pañal seco a la hora de dormir. Para satisfacer esta demanda y asegurar "noches secas", Pampers cuenta con pañales de nuevo diseño en toda su línea de productos, que proporcionan hasta 12 horas de protección nocturna, para asegurar que el bebé disfrute de un sueño "seco" y cómodo.
* Dedique un momento para acunar al niño. El 41 por ciento de los padres participantes en la encuesta afirmaron que acunar al bebé a la hora de dormir lo ayuda a preservar el sueño toda la noche. Acunar le ayuda a crear un lazo sólido con el niño, y le permite al pequeño relajarse después de un día pleno de sensaciones. Asegúrese de que la hora de acunar al bebé sea sosegada y lo relaje, preparándolo para el sueño.
* Incorpore música suave. Si el bebé se despierta en plena noche, hacerlo participar en actividades sosegadas le ayudará a volverse a dormir con más rapidez. Reduzca la intensidad de la luz mientras duerme al niño, hablándole en voz baja y moviéndolo lentamente. Si el bebé necesita su presencia por más tiempo– como para alimentarlo – una música suave y tranquila es una buena opción, pues le ofrece el sonido tranquilizante que desea el bebé, y es más entretenido para la madre.
*Convierta la lectura en rutina. Su bebé se dormirá más rápidamente si usted crea una rutina que pueda asociar con el sueño. Leerle a su niño puede ser una incorporación idónea a su rutina. Léale en voz baja para tranquilizar a su pequeño, a una hora fija, respetando la rutina todas las noches.
* Un poco de ruido de fondo no hace daño. Las máquinas de sonido son otra opción para ayudar a su pequeño a conciliar el sueño. Recuerde que su bebé estaba acostumbrado a cierta dosis de ruido exterior mientras permanecía en su vientre, y podría confrontar problemas para dormir en un silencio total. Ponga al niño en la cuna aletargado, pero sin que esté dormido totalmente. Esto le ayudará a asociar a su cama con el sueño, y la máquina de sonidos le proporcionará el ruido de fondo necesario al que está acostumbrado.
Ayudar a su hijo a conciliar un buen sueño nocturno es crucial para su desarrollo y su salud. Recuerde que su pequeño es inundado con nuevos estímulos cada día, y lo mejor que puede hacer es estimular el sueño creándole una rutina tranquila y cómoda al bebé. Para tener acceso a más detalles sobre Pampers y las actualizaciones principales y significativas en toda su línea de pañales, visite el sitio Web http://es.pampers.com/home.
Nota de la redacción
Los resultados del sondeo se basan en 500 entrevistas, realizadas por Internet del 29 de agosto al 4 de septiembre del 2013 a una muestra de madres hispanas con hijos menores de 3 años. Todas las participantes residen en los Estados Unidos. La encuesta fue realizada por ONLINE CARAVAN(R) Parents, servicio global de ORC International.
QR Code – Take this post Mobile!
Use this unique QR (Quick Response) code with your smart device. The code will save the url of this webpage to the device for mobile sharing and storage.